The Pink City of Jaipur is the capital of Rajasthan and is famed for its many attractions. Jaipur is a dynamic city with plenty to see and do, from imperial grandeur and architectural majesty to street cuisine and colourful marketplaces. Book some of the best Jaipur hotels went in the city. The following are the top ten must-see tourist attractions in Jaipur:
#1. Amer Fort
The magnificent Amer Fort, perched on a rocky hill, is a must-see tourist attraction in Jaipur. The Amer Fort was erected in red sandstone and marble by Maharaja Man Singh in 1592 AD. It was the Rajasthan royal family's house. Visit the Sheesh Mahal, Diwan-i-Aam, Sukh Mahal, and Maotha Lake while touring the Fort. An elephant ride, a light and music performance in the evening, and a stunning view of the setting sun are all available.
#2. The Jaigarh Fort
The stunning Jaigarh Fort is known for the Jaivana cannon, the world's biggest cannon. Sawai Jai Singh II erected the Fort in 1726 to guard the Amer Fort, also known as the Fort of Victory, since it has never been captured. Maotha Lake and Amer Fort are seen from the Fort. The Diwa Burj, a mediaeval tower, the main gate-Dungar Darwaja, and the 'Cheel ka Teela' watchtower are major tourist sites that provide a beautiful perspective of the whole city.
#3. The Jal Mahal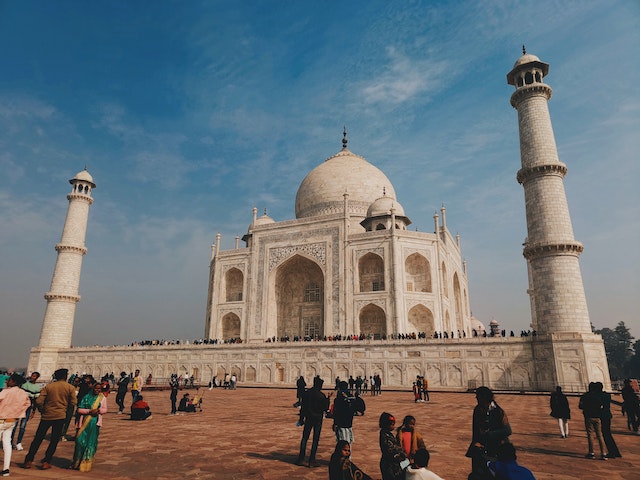 The Jal Mahal (Water Palace) in Jaipur appears to float on the lake's surface. It is an architectural wonder that demonstrates the Rajputs' engineering prowess. It's a five-story mansion with four storeys beneath the water with an exciting blend of Rajasthani and Mughal architecture. Go kayaking at Man Singh Lake for a breathtaking view of the palace.
#4. The Hawa Mahal
The Hawa Mahal, designed in a honeycomb style, is a Jaipur icon. This five-story tower, also known as the 'Palace of Winds,' was erected in 1799 by Maharaja Sawai Pratap Singh for the royal women to watch ordinary life and celebrations on the street because they were not permitted to make a public appearance without concealing their faces. This palace boasts 953 intricately designed windows, known as charkhas. You will find some famous miniature paintings and ceremonial armour in a museum within the Hawa Mahal complex.
#5. Jantar Mantar
Jantar Mantar in Jaipur is a must-visit destination for tourists since it has the world's giant stone sundial (Virat Samrat Yantra) with a height of 27 metres. Jantar Mantar is an astronomical observatory erected in 1734 by Maharaja Sawai Jai Singh II. It is also designated as a UNESCO World Heritage Site.
#6. Galtaji Temple (Monkey Temple)
Galtaji Temple is a sprawling temple complex filled with shrines, sacred ponds, pavilions, and natural springs. The temples are erected within a small mountain pass in the Aravalli highlands, with murals and paintings from Indian mythology adorning the walls and ceilings. The structure resembles a large haveli due to the sculptures and decorations.
Its beauty is enhanced by the complex design of the canopies/chhatri and lattices. The Monkey Temple, also known locally as the 'Galwar Bagh,' gets its name from the vast number of monkeys that live on the premises.
#7. Birla Temple
Birla Temple, also known as the Lakshmi Narayanan Temple, is a magnificent white marble temple with wonderfully sculpted statues of Lord Vishnu, Goddess Lakshmi, and other Hindu Gods and Goddesses. The walls of this magnificent temple, which is located on a raised ground at the base of Moti Dungri hill, are adorned with delicate carvings of Hindu symbols and old passages from the Geeta and the Upanishads.
#8. Albert Hall Museum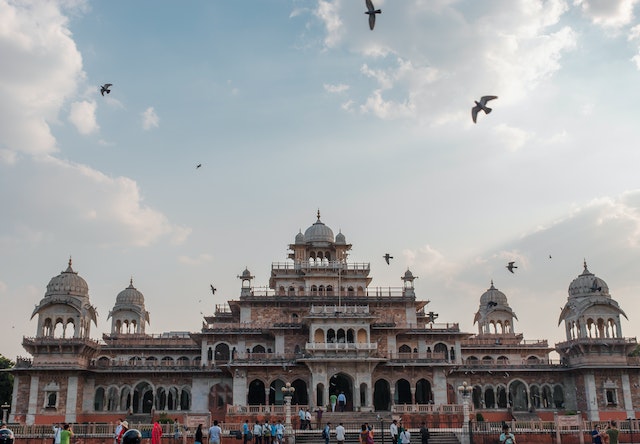 The Albert Hall Museum, located in the Ram Niwas Garden, is one of Rajasthan's oldest museums. It houses an incredible collection of Rajasthani miniature paintings, carpets, ivory, stone, metal sculptures, musical instruments, and weapons. At night, the museum is magnificent with coloured lights.
#9. Nahargarh Biological Park
The Nahargarh Biological Park, located within the ancient area of the Nahargarh Fort, is a must-see for youngsters and wildlife enthusiasts. Ram Niwas Jaipur Zoo was relocated to Nahargarh Biological Park in 2016, where visitors can see various animals and over 200 bird species during the wildlife safari at Nahargarh Biological Park. This park comprises granite rocks, stone rocks, and dry deciduous and tropical rainforests spread out across a broad area.
#10. Jaipur City Palace
The Jaipur City Palace is a renowned tourist destination and an essential landmark. The City Palace is also the seat of Jaipur's royal dynasty and houses the famed Maharaja Sawai Man Singh II Museum. The palace's enormous pillars, latticework or jali work, and carved marble interiors are a typical combination of Indian, Mughal, and European architectural traditions. The Diwan-i-Khas, Diwan-i-Am, Pritam Niwas Chowk (Peacock Courtyard), Mubarak Mahal, Chandra Mahal, Maharani Palace, and Baggi Khana are among the many structures, courtyards, and gardens in this sprawling complex.
Best Accommodations in Jaipur
Here are things to consider when booking a Jaipur hotel. To enjoy cuisine and shopping, choose a hotel at Bani Park. If you like street shopping, stay near Raja Park. Hotels around MI Road provide affordable accommodations for business travellers. Hotels near Jaipur Railway Station offer quality accommodations at reasonable rates for rail travellers. Choose hotels near Sanganer Airport, Jaipur, if you prefer flying or require a layover. Stay near Sindhi Camp Bus Stand for interstate travel.
Treebo Jaipur hotels provide best-in-class holiday accommodations. Treebo offers 2- and 3-star hotels in Jaipur. Budget-friendly hotels are ideal for frugal travellers and students, while 2- and 3-star hotels attract families and business travellers. Tourists, particularly couples, may stay at Jaipur's couple-friendly hotels without feeling morally obligated. The following are some of the top budget hotels in Jaipur:
• Treebo Natraj
• Treebo Hotel R41
• Treebo Avalon
• Treebo Bliss
• Treebo Grand
• Treebo Indiana Classic
• Treebo Dream Palace and more.
Why Treebo Hotels in Jaipur?
Treebo provides low-cost hotels in Jaipur. The Treebo Jaipur Hotels strive to make your stay memorable. Parking, pools, rooftop cafés, in-house restaurants, and event space are available at Treebo Hotels in Jaipur. Air-conditioned rooms, cable/DTH TVs, free Internet, and breakfast are available at all Treebo Jaipur Hotels.
Treebo offers locations in Jaipur's most desirable neighbourhoods near the city's most popular tourist attractions. It has never been easier to book hotels in Jaipur.